Changes to OC Transpo Service Starting this Summer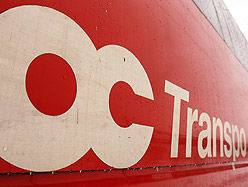 Your commute on OC Tranpo's Transitway is likely to change this summer if you're traveling to or from the east end of the City.
On Sunday, June 28, the Transitway section between Hurdman and Blair Stations will close due to construction for the O-Train Confederation Line.
The O-Train Confederation Line is the future of public transit in Ottawa and it will significantly improve the way people get from one end of the City to another. Once completed in 2018, the Confederation Line will be one of the most advanced and innovative transit systems in North America and will serve as the foundation of Ottawa's planned city-wide light rail network.
To get there, we must first convert the Transitway to light rail which means OC Transpo customers will have to adjust to certain service changes.
How will OC Transpo's service and stations be affected
Starting June 28, all transit service that now runs on the Hurdman-Blair section of the Transitway will be moved to bus lanes on Regional Road 174, Highway 417, and other parallel corridors. It's important to note that many buses to and from downtown will bypass Hurdman Station to keep travel times as quick as possible.
There will also be changes to OC Transpo's Train, St-Laurent, Cyrville and Blair Stations to allow for construction of the new light rail stations and platforms. The current Train Station on the Transitway will close, which means that VIA Rail station will only be served by OC Transpo on Tremblay Road. The lower level of St-Laurent Station will close as well which means all OC Transpo routes with a stop at St-Laurent will be operating strictly on the upper level. Blair Station will move slightly east from its current location, where construction is already underway, and Cyrville Station will also close but customers travelling to and from that station will continue to be served by nearby local routes.
Other changes and improvements to OC Transpo's service starting June 28
A new Route 91 will supplement Route 95 and will bypass Hurdman Station providing a more direct trip downtown;
Routes 91 and 94 and regular and express eastbound Routes will travel on Highway 417 and will bypass Train and Hurdman Stations;
Route 95, 114, 129, 192 and 199 will travel on Highway 417 and will bypass Train Station;
Routes 92 and 96 will provide service to the relocated Train Station on Tremblay Road;
Routes 127 and 124 will be combined to provide service to residents in the Ogilvie/Cyrville community;
Routes 126 and 128 will be shortened to end at Blair Station 7 days a week;
Routes 6 and 101 will have a different routing at Lees Station;
Routes 1 and 7 will have improved service frequency on weekends; and,
West end express routes will end at Hurdman Station in the morning and will start at Campus Station in the afternoon.
These adjustments to OC Transpo's service will be in place until the O-Train Confederation Line opens in spring 2018. For more information, please visit www.octranspo1.com/routes/on_track_2018. L'information est aussi disponible en français ici : www.octranspo1.com/circuits/sur_la_voie_2018.
Seasonal service changes to OC Transpo
On Wednesday, July 1, a special Canada Day service will operate, with more trips and higher-capacity buses. No matter where you have to go that day, remember that you can count on OC Transpo.
During the summer months, TD Place will host large and small events, including CFL football, NASL soccer, and concerts. For all events and for everyday travel, Routes 1 and 7 provide service on Bank Street and transfers can be made with the rest of the transit network.
Every year, OC Transpo ridership goes down as the school year ends, as customers take summer vacations, and as the weather improves to allow easier cycling and walking. OC Transpo will be adjusting its service frequency this summer to reflect these changes in ridership. A number of routes will be affected so it is best to visit octranspo.com to see if and how your commute will change.
Up-to-date OC Transpo schedules can be found starting mid-May by using octranspo.mobi or the MyTransit iPhone app, by calling 613-560-1000 or by texting 560560.
Visit octranspo.com for more information and to find the most convenient trip for you. You can also contact OC Transpo at 613-741-4390.