Alta Vista Park Renewal
As you know, the playground at Alta Vista Park will be undergoing renovations this year with the lifecycle replacement of the junior playground equipment and addition of a senior structure through community partnership.
Alta Vista Play structure community partnership and lifecycle replacement project and projected timelines: 
Purchase Order issued to contractor first week in May 2018
Contractor to order play equipment May 2018 (approximately 4-6 week order period)
Construction to start early July and continue to the end of August (to be confirmed)
As the start of construction approaches, the contractor will firm up the schedule and this page will be updated to keep the community informed.
---
Residents invited to review and comment on the Alta Vista Park Renewal Proposal
The playground at Alta Vista Park will be undergoing renovations in 2018.  The junior playground equipment will be replaced through the City's life cycle program (which covers A-1 to 3 as well as B-1 to 3 on the images below). There is also an option to add a senior structure if there is community support (which covers A-4 or B-4 on the images below).
Have Your Say: Cast your vote for your top choices by letting us know your preferred play structure and senior structure options by submitting a comment sheet via email at JeanCloutierOtt@ottawa.ca.
Consultations will close June 22, 2017.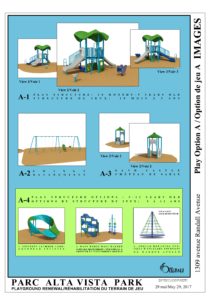 Play Option A -Playground Layout Plans
Play Option A -Play Elements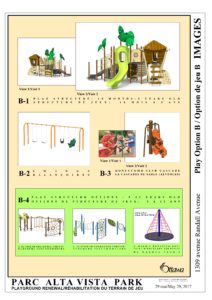 Play Option B -Playground Layout Plans
Play Option B -Play Elements
The following is the tentative Alta Vista Park Renewal schedule:
Open House Consultation : June 8th, 2017
Concept Plan Approval: June 30th, 2017
Detail Design Completion: September 30th, 2017
Construction Funds Available: January 2018
Tender: March 2018
Construction and Shut-Down Period: May – July 1st, 2018
Substantial Completion: July 15th, 2018
Total Completion: August 2018
For more information please visit the project website.
Should you have any questions on this initiative, please email JeanCloutierOtt@ottawa.ca.