Residents Invited to Provide Feedback on Featherston Park Renewal
I invite you to attend an 'open-house-style' community information session that will provide you with the opportunity to review the proposed Featherston Park design for the:
Renewal of the existing play equipment (aimed at 1.5 – 5 year olds); as well as a
New Fitness Circuit section (aimed at 5 – 12 year olds), proposed to promote health and fitness for mid-aged children.
The proposed park construction is anticipated to be completed in two phases:
Fitness Circuit construction – late summer / fall 2017
Existing play equipment renewal – spring / early summer 2018
The purpose of the evening is to meet with residents and to provide an opportunity to view the proposed plans and to allow for discussion regarding the design and planned amenities, and also to discuss the proposed construction schedule.  City staff will be available to answer questions and gather comments.
Please plan to attend:
Monday, March 27th, 2017
6:00 – 7:30pm
Canterbury Community Centre, Hall B
2185 Arch Street
Consultation Plan: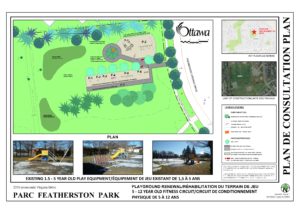 Consultation Images: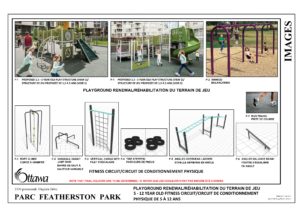 For those who are not able to join us, the Consultation Plans will be posted on this page, and comments can be directed, via email, to myself, or Jeannette Krabicka, Park Planner at Jeannette.Krabicka@ottawa.ca.  The comment period will close on April 3rd, 2017.
Thank you for your engagement and contributions to the consultation process.
As always, do not hesitate to email or call my office at 613-580-2488 should you have any questions. I hope to see you on the 27th.