Construction officially begins on the Jim Tubman Chevrolet SENS RINK
At a ceremony held today, Mayor Jim Watson and Councillor Jean Cloutier, Alta Vista Ward, celebrated the beginning of work on the new the multi-purpose, year-round outdoor covered refrigerated rink at the Canterbury Recreation Complex. Representatives from project sponsors Jim Tubman Chevrolet, the Ottawa Senators Foundation and the Canterbury Community Association were on hand as the official name of the new facility was unveiled: the Jim Tubman Chevrolet SENS RINK.
Construction of the rink is expected to be completed in December of 2017. Once open, the rink will increase access to hockey and public skating during a four- to five-month ice-in season. During the rest of the year, the rink will be used for ball hockey, basketball and lacrosse, as well as a range of community activities and events.
The Jim Tubman Chevrolet SENS RINK was funded through a combination of a special area levy, development charges, fundraising and sponsorships. Jim Tubman Chevrolet's sponsorship is a part of the City of Ottawa's Community Champions initiative, which provides businesses, community groups and public-spirited individuals with an opportunity to become community partners by sponsoring City programs, services and facilities.
 Quotes
"We're thrilled to see the beginning of work on this innovative facility, thanks to the support of our partners at Jim Tubman Chevrolet, the Ottawa Senators Foundation, the Canterbury Community Association, and the members of this community. This rink will increase opportunities for sports and recreation programming, as well as community events."
Mayor Jim Watson
 "The Jim Tubman Chevrolet SENS RINK will be will be an inventive addition to the thriving community hub of recreation activity at the Canterbury Recreation Complex, and an excellent complement to the busy and popular Brian Kilrea Arena, by offering a new option for ice time."
Councillor Jean Cloutier, Alta Vista Ward
 "Jim Tubman Chevrolet is honored to be a partner in the Canterbury Community Outdoor Covered Rink Facility project. This initiative will be a positive addition to the community offering countless opportunities to enjoy outdoor recreation during both the summer and winter months."
Anne Harcourt, President, Jim Tubman Chevrolet
 "Registration fees, equipment costs and transportation are some of the many barriers preventing kids from being active. The Ottawa Senators Foundation believes that everyone should have the opportunity to play and are proud to work with great partners to give the children and families of the Canterbury Community a recreational facility everyone can enjoy year-round."
Danielle Robinson, President and CEO, Ottawa Senators Foundation  
 "The Canterbury Community Association (CCA) is excited to be a part of the Jim Tubman Chevrolet SENS RINK. We are looking forward to it joining the other facilities at the Canterbury Recreation Complex as a hub of community and family activities. The CCA has had a long involvement in providing quality programs to the Canterbury, Alta Vista and broader community. This facility presents a wonderful opportunity to add new outdoor programming and events open for all to enjoy."
John Marshall, President, Canterbury Community Association
---
Official groundbreaking for Canterbury Community Outdoor Covered Rink
Mayor Jim Watson and Councillor Jean Cloutier, along with representatives from Jim Tubman Chevrolet, the Ottawa Senators Foundation and the Canterbury Community Association, will celebrate the groundbreaking for the new Canterbury Community Outdoor Covered Rink Facility, and unveil its official name.
Date: Wednesday, May 10
Time: 2 p.m.
Location: Canterbury Recreation Complex, 2185 Arch Street, Ottawa
Parking: Free parking available on-site
---
New public art selected for Canterbury Community Outdoor Covered Rink
The new outdoor covered rink being constructed at the Canterbury Recreation Complex (2185 Arch Street) will be home to Sky Hockey, a set of sculptures based on drawings that artist Christopher Griffin made while watching shinny hockey games. The artist plans that "these simple line drawings, which capture the nuances and body positions unique to skating, will form the basis for sculptures that are literally 'drawings in the sky' of two teams playing a permanent game under the rafters on the perimeter of the rink."
By working in 'sculpting bees' with volunteers from the neighbourhood to mix the concrete and apply it by hand, Griffin hopes to instill a sense of community ownership and pride in the artwork.
Christopher Griffin is an Ottawa-based visual artist who works extensively with hand-formed and hand-carved concrete. Over the past fifteen years, Griffin has created and installed numerous public art installations in Ottawa neighbourhoods. He is the winner of the 2015 Award of Excellence, Ottawa Urban Design Awards, for his public artwork Blanding's Turtles of the South March Highlands at the Beaverbrook Library in Kanata.
Funds for public art were allocated from the Canterbury Community Outdoor Covered Rink facility project. The City of Ottawa initiated a competition for public art in December 2016 and a peer assessment committee selected Sky Hockey based on criteria that included the strength of the proposed concept and engagement with the Canterbury community. The artwork will be installed when rink construction is completed in fall 2017.
---
Community Notice: Canterbury Community Outdoor Covered Rink
On-site activities to start this Spring
This is an update on the Canterbury Community Outdoor Covered Rink project, which has seen much progress over the course of the winter.
Recent milestones include:
• Site Plan Control application approved;
• Building Permit issued; and
• Tender package issued and scheduled to close at the end of March.
The city will now move forward with construction this spring. Activities will begin in early April with some preliminary site preparations, including select tree removals. New trees will be planted in accordance with the approved project landscape plan.
Subsequent to awarding the contract, I will be back to the community to provide a timeline for construction. These and other details will be posted on this page however, should you have any concerns or questions, please do not hesitate to contact me.
---
Have your say! Public art for Canterbury Community Outdoor Covered Rink
The City of Ottawa invites you to have your say about public art to be commissioned for the Canterbury Community Outdoor Covered Rink at the Canterbury Recreation Complex.
Meet the artists and share your comments with them.
View the four proposals for public art that have been made by artists Karl Ciesluk, Ingrid Dabringer, Ted Fullerton and Christopher Griffin and give them your feedback in person on:
Date:  Thursday March 30
Time: 7:00 to 9:00 p.m.
Location:  Hall B, Canterbury Community Centre, 2185 Arch Street, Ottawa
Have your say online

Preview the proposals and submit your comments anytime between March 18 and March 24.
Your feedback is important
Comments from the public about how well the artwork attracts visitors to the site, engages users and is sensitive to the surrounding community will be part of the decision process of the committee selecting the artwork.
How this public art is funded
The City of Ottawa commissions artists' works for display in public spaces from one percent of funds set aside from municipal capital projects. Funds for the public art at the Canterbury Community Outdoor Covered Rink were allocated from the covered rink construction budget.
For more information, please email publicartprogram@ottawa.ca.
---
Calling All Artists!
The canvas in question?
The Canterbury Community Outdoor Covered Rink!
An open call has been placed for artists looking to showcase their work on the "big stage".
Artists are invited to "work their magic" and add a creative flare to the upcoming Canterbury covered rink, while involving the Canterbury High School students in their works.
The artwork will cover the interior roof of the rink, can incorporate multi-colored LED lights (which the city is planning to install), and should feature year-round programs, activities and events.
The chosen artist will be awarded $23,000, plus HST, to cover the costs of design, development, storage, transportation, installation and engineering.
All submissions must be made by December 13 at 4pm.
Click HERE for more information.
Mail or deliver submissions to:
Public art for Canterbury Covered Rink
c/o Public Art Program, City of Ottawa
172 Guigues Avenue, Floor 3
Routhier Community Centre
Ottawa, ON K1N 5H9
---
Design Elements Presented at Community Open House 
Following Council approval in April 2016, a lot of work has been done to move the Canterbury Community Outdoor Covered Rink project forward.
My office, along with city staff, organized a community meeting, which was held on September 15th, where information about the next phase of the project was available. It was an opportunity for residents to comment on the details design, site plan, landscape plan and proposed public art for the facility.
What's new since the Canterbury Community Outdoor Covered Rink proposal received Council's approval
In April 2016, a report to Finance and Economic Development Committee and Council was approved. The report set out the project's funding model, design and construction. Read the full report.
Since receiving approval, the project moved to the next phase of its development – detailed design. The design team is progressing on schedule, tasked with fine tuning a design in keeping with the concept plan that was presented to the public in February 2016.
The latest design drawings (site plan and floor plan) are being used to support an application to the Committee of Adjustment for a minor variance from the Zoning Bylaw to permit an increase to 9.2m from 6m in the maximum height to accommodate the structure's roof.
The Committee of Adjustment hearing for the Canterbury project was scheduled for Wednesday July 20th at 6:30 pm in the Chambers at Ben Franklin, 101 Centrepointe Drive.
Work to finalize the detailed design, planning documents and cost estimates has been completed over the next several weeks in preparation for a site plan amendment application to the City's Planning Department late summer.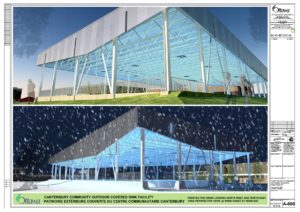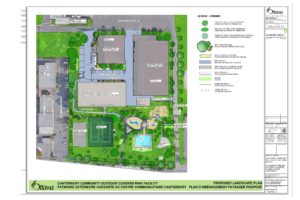 ---
Canterbury Outdoor Covered Rink Proposal
In response to the demand for more ice time and recreation space in Alta Vista's communities, a refrigerated outdoor covered rink is proposed for Canterbury, based on the City of Toronto's hugely successful Greenwood Park (opened in 2013).
Initial discussions with community associations and local sports groups indicated enough support to move ahead with a preliminary assessments and wider consultation to the public.
WHAT:  A 70' (21m) x 160' (49m) refrigerated outdoor rink with a 28' (8.5m) high steel roof to protect the surface and shelter users from elements which would provide year-round programming and event space.
WHERE: The rink would be located adjacent to the Brian Kilrea Arena at the Canterbury Recreation Complex, providing easy access for the zamboni from the existing arena. This location necessitates the removal and replacement of about 25 trees, and 22 parking spots.
WHEN: The collection of community and stakeholder feedback is ongoing. A tentative schedule would bring this proposal to City of Ottawa Committee and Council in April 2016, with site plan work beginning July 2016. The facility could open as early as November 2017.
WHO:  This facility would offer both programmed and free-skate scheduling for all ages and abilities. In addition to winter sports, many warm weather activities would be possible, such as yoga, shuffleboard, farmers markets, and more.
COST: The facility is expected to have $88K in annual operational costs. The estimated total capital cost is $5.8M, to be covered by:
$400K Sponsorships and community partners
$2.5M of city wide development charges to fund this growth project
$2.9M 10-year tax levy for ward 18 (est. $16 avg. annually)
Updates for this project will be posted to www.jeancloutier.com/canterbury-community-outdoor-covered-rink/. Questions and proposal feedback can be submitted to Councillor Cloutier directly by emailing jean.cloutier@ottawa.ca or calling 613-580-2488.
---